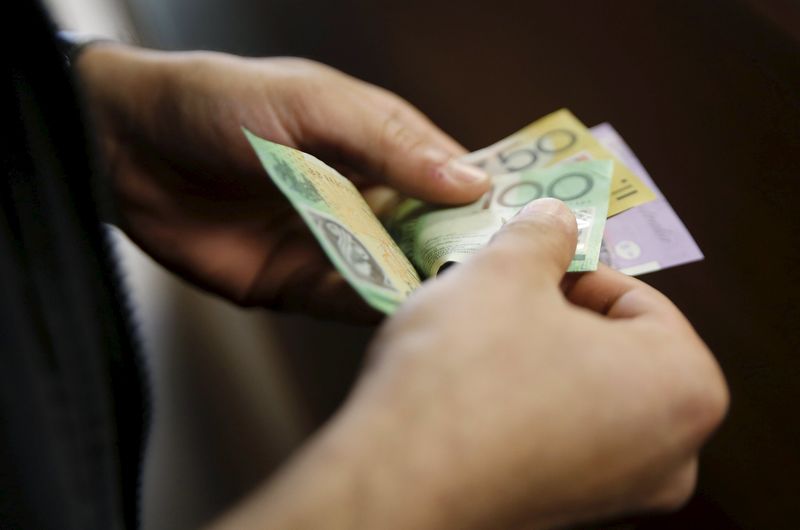 © Reuters. Aussie gains in Asia
Investing.com – The Aussie gained in Asia on Wednesday with the opening of China's party congress providing few economic cues in the keynote speech by President Xi Jinping outside of saying the market will play a decisive role in the economy.
AUD/USD trose 0.09% to 0.7852, while USD/JPY changed hands at 112.16, down 0.04%. EUR/USD traded at 1.1770, up 0.03%.
The U.S. dollar index, which measures the greenback's strength against a trade-weighted basket of six major currencies, eased 0.03% to 93.33.
Overnight, the dollar traded higher against a basket of major currencies buoyed by economic data that topped expectations pointing to underlying strength in the U.S. economy.
The dollar was on track for a fourth-straight session of gains after a slew of upbeat economic data lifted expectations that the U.S. economy is on track for a strong quarter of growth.
U.S. import prices for September recorded their biggest increase in more than a year rising 0.7% for month, the Labor Department said Tuesday. That beat expectations for a 0.5% rise.
U.S. industrial output rose 0.3% in September as construction and utilities production recovered following the impact of Hurricanes Harvey and Irma last month, the Federal Reserve said on Tuesday. Manufacturing production rose 0.1% in September.
Also supporting a move higher in the dollar was an uptick in U.S. Treasury yields following a report from Bloomberg suggesting that President Donald Trump favoured Stanford economist John Taylor as the next leader of the Fed.
"Taylor is regarded as one of the more hawkish candidates under consideration given his past comments and the significantly higher rates that would be implied by a mechanistic interpretation of his eponymous rule," wrote analysts at Daiwa Capital Markets.
The sharp rise in the dollar weighed on the pound and euro as both currencies fell to session lows.
Investor expectations of a Bank of England November rate hike eased slightly after new deputy Bank of England governor Sir Dave Ramsden said he was not part of the majority of policymakers who favoured a rate hike.
sponsoredArticle = 'div-gpt-ad-1466339494851-0';