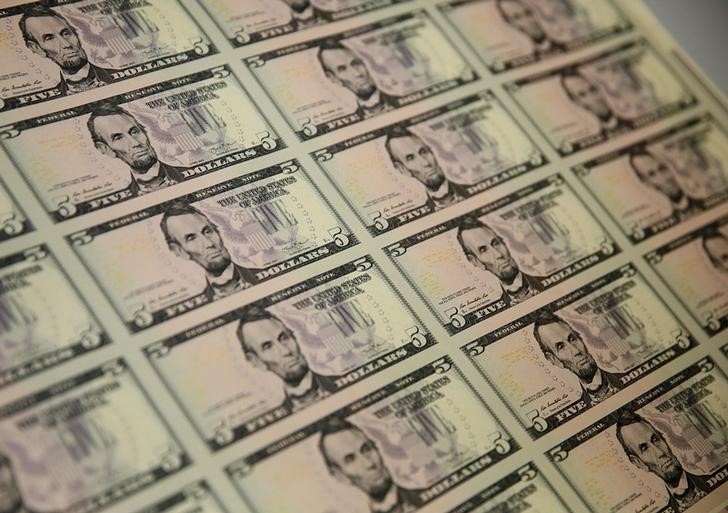 © Reuters. Dollar gains ground vs. other majors, tax reform hopes support
Investing.com – The dollar moved higher against other major currencies on Friday, on fresh hopes for a major U.S. tax reform and amid ongoing speculation over the next head of the Federal Reserve.
The greenback was boosted after the U.S. Senate late Thursday approved a budget blueprint for the 2018 fiscal year that will pave the way for Republicans to pursue tax-cut plans without Democratic support.
Meanwhile, speculation over who will replace Janet Yellen as head of the Fed persisted.
U.S. President Donald Trump was set to meet with current Chair Janet Yellen on Thursday as part of his search for a new candidate for her position. She is one of five candidates Trump is considering for the job.
Stanford University economist John Taylor, regarded by market watchers as more hawkish than Yellen, is currently seen as a front-runner, according to media reports.
EUR/USD slid 0.39% to 1.1806 as Spanish political tensions weighed.
The Spanish government was set to suspend Catalonia's autonomy and impose direct rule after the region's president refused to abandon the push for independence on Thursday.
The announcement came after Carles Puigdemont threatened a unilateral declaration of independence if the Spanish government did not agree to talks on the issue.
Elsewhere, GBP/USD declined 0.35% to trade at 1.3112.
The yen and the Swiss franc were lower, with USD/JPY up 0.63% at 113.25 and with USD/CHF climbing 0.52% to 0.9815.
Market participants were looking ahead to Japan's general election, scheduled on Sunday. Recent polls suggest that Japanese Prime Minister Shinzo Abe's ruling coalition is on track to match the two-thirds "super majority" it held in parliament's lower house before the snap election was called.
Meanwhile, the New Zealand dollar was hovering at five-month lows, with NZD/USD down 0.57% at 0.6988.
Investors were still digesting news of a new Labor coalition, formed by New Zealand Prime Minister-elect Jacinda Ardern.
The U.S. dollar index, which measures the greenback's strength against a trade-weighted basket of six major currencies, was up 0.41% at 93.38 by 02:15 a.m. ET (06:15 GMT).
sponsoredArticle = 'div-gpt-ad-1466339494851-0';