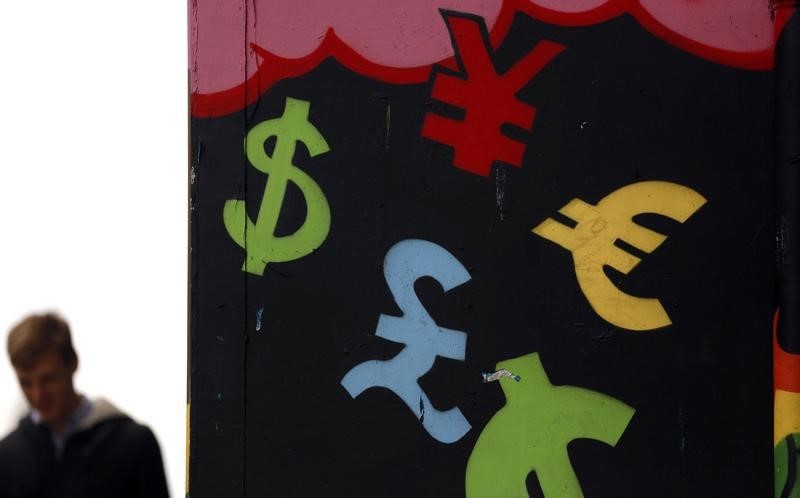 © Reuters. Euro hits 1-week high, New Zealand dollar skids
Investing.com – The euro rose to one-week highs on Thursday as investors shrugged off political uncertainty in Spain ahead of next week's European Central Bank meeting, while the New Zealand dollar skidded to the lowest levels in five months.
EUR/USD was up 0.46% at 1.1840, the strongest level since October 13 by 08:45 AM ET (12:45 PM GMT).
The Spanish government said Thursday that it is poised to suspend Catalonia's autonomy and impose direct rule after the region's President Carles Puigdemont refused to abandon the push for independence.
Investors were looking ahead to next week's ECB meeting where the central bank was expected to announce that it will soon start tapering its asset purchase stimulus program.
The dollar turned lower against the yen, with USD/JPY down 0.49% to 112.38 after hitting a two-week high of 113.15 overnight as investors remained focused on who will next lead the Federal Reserve.
The dollar has been boosted in recent sessions by expectations that President Donald Trump could pick a more hawkish Fed leader than current Chair Janet Yellen.
The New Zealand dollar was sharply lower, with NZD/USD dropping 1.75% to 0.7024, putting it on track for its largest one day percentage decline in a year.
The drop in the kiwi came after a surprise election outcome sparked concerns that the new government could pursue policies that would weaken the currency.
Sterling was also lower, with GBP/USD last down 0.24% to 1.3173.
The pound came under renewed selling pressure after data showing that UK retail sales slowed sharply in September underlined concerns that the economy is slowing.
The U.S. dollar index, which measures the greenback's strength against a trade-weighted basket of six major currencies, was down 0.23% at 93.09.
In the U.S., data on Thursday showed that initial jobless claims fell to the lowest level in over 44 years last week, indicating that the labor market is rebounding after Hurricanes Harvey and Irma led to a decline in employment in September
At the same time, another report showed that manufacturing activity in the Philadelphia region rose unexpectedly this month.
sponsoredArticle = 'div-gpt-ad-1466339494851-0';